ÅEC - R2v2 Calfsleeves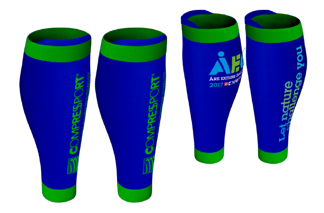 Pris:
450 kr
Inkl. 25% Moms
Art.nr:
P1561060
Antal:
ÅEC Limited Edition - R2v2 Calfsleeves
Seamless Multigradual Compression for an outstanding feeling of strenght.
Extreme durabillity, Oxygenation increasing, Anti Fatigue, Shockabsorber, Faster Recovery, Injury Reduction, Massaging Fiber, Ultralight, K-Protection

+21,5 % Oxygenation increasing
The R2v2 Calfsleeve gives a long and lasting feeling of fresher and lighter legs as soon as you put them on.
+20 % Blood Return Increasing - Recovery
Lactates and toxins are very effectivetly flushed.
-32 % Muscular Vibration Reduction – Anti Fatigue and Shockabsorber
Absorbtions of shocks and vibrations on muscles, veins and joints increases your performance during effort.
29 % Injury Reduction
A Compressport Study presented in the IOC ( International Olympic Committee) shows a reduction of injuries by 29 % thanks to the use of Compressport compression products.
Significantly drains lactic acid - DTox
During the effort, your recovery is enchancedto delay faigue during long races.
K-Protection Technology
K-protect is an ergonomic band which applies compression on the patellar tendon to provide extra knee support. It reduces the vibration with up to -8 % without hindering the joint movement. The K-protect will be your best ally to push your speed and effort in steep downhill running, during hard intervallsor fast-paced intens games.
Massaging Fiber
Every movement triggers a micromassage providing well being and lightness Patented fiber.
Ultralight
Wet or dry it COMPRESSPORT R2v2 probably remains the most lightweight, does not retain water.